We are very excited to welcome back Master Teacher Julian Littleford to Pilates Anytime.  Julian brings a tremendous amount of experience to you when you take his class. He spent spent eight years in New York City as a principal dancer with the Martha Graham Dance Company, where he worked with Mikhail Baryshnikov and the late Rudolf Nureyev. He is the founder and owner of J.L. Body Conditioning in Del Mar, California, and gold certified through the Pilates Method Alliance. Julian is a high energy teacher   We presently have three classes by Julian on the website.  The most recent addition is a level 2/3 Mat Class by Julian Littleford.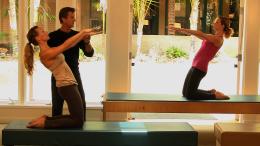 The mat classes by Kathy Corey and Michael King have become the two most viewed classes on the site and if you have not yet worked out to them we strongly encourage you to do so.
Over the last few weeks we have been working on creating forums so that you can comment, ask questions and make suggestions.  We hope that everyone will contribute to the conversation.  We would particularly like your feedback on how we can improve the website and our service, so please comment in our suggestion box.  Your comments will help us determine which classes to produce and which technical developments to focus upon.
We have upgraded our video delivery system so that our videos are now hosted on numerous servers all over the world.  Previously the video files were located in California and had to travel to wherever the viewer was located.  This upgrade has resulted in the classes starting more quickly when you press play and allowing you to quickly move back and forth within the video.
Over the next few weeks we will be announcing some additional distinguished instructors and we are very excited about adding their classes to Pilates Anytime.
No comments yet. Be the first!