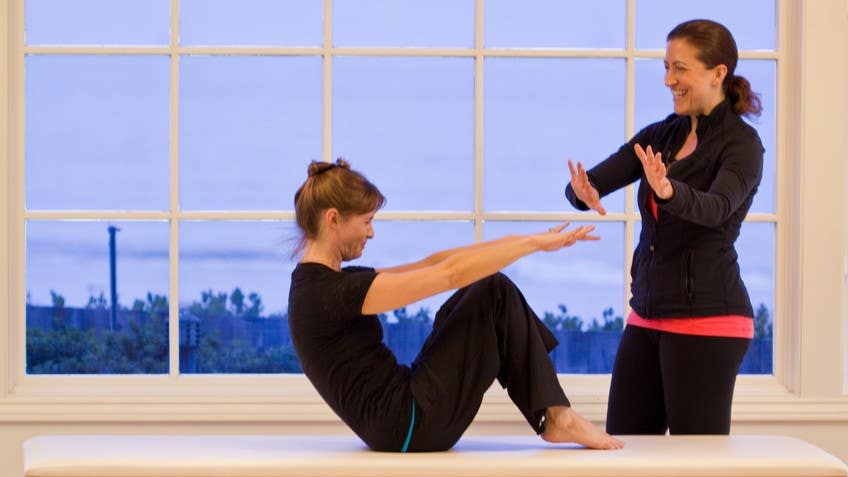 Jennifer Kries doesn't have to put her hands on you for you to feel her effectiveness as a communicator. In fact, if she takes one step in the vicinity of your space, you are likely to be enveloped by the energy of the many signals she is sending your way. You may notice the room brighten, that you are suddenly standing taller. A sense of empowerment may fill you as you become unexpectedly light in spirit. When you turn your head to see her standing there, she'll most likely be smiling back at you knowingly, as if to say, "Now doesn't that feel better?"Yes, we're talking about "the" Jennifer Kries; Pilates, Yoga, Qigong and Waking Energy Master. Nearly 15 million of you may just know her as your first Pilates teacher, given that's how many units of "The Method (the first Pilates video ever made)," were sold. Jennifer has spent her life thus far studying movement and the energy that accompanies it. She is an observer. She is a "feeler." Jennifer Kries hands down, or "hands on," as the case may be, is a great communicator! Though she is young, her history of study is long. Jennifer began Pilates at the age of 13, learning from Pilates elders,
Eve Gentry, Romana Kryzanowska
and
Ron Fletcher.
She danced with the
New York City American School of Ballet
and made her professional debut at sixteen in
George Balanchine's
"Serenade" with
Edward Villella's Eglevsky Ballet.
Jennifer has since studied movement in the form of Yoga, Qigong, and more recently
Waking Energy
, a modality she developed to help others "harness the energy of the Universe." Jennifer is a teacher's teacher and an endlessly compassionate person. It was an honor to host Jennifer in the Pilates Anytime Studio last October where she offered her
Pilates-Hands-On–Workshop.
If ever you have the chance to study with Jennifer, in any of the disciplines she teaches, you will be pleased to know that Jennifer teaches beyond what is listed on her handout. Those paying attention, will see they are being gifted with the wholeness of who she is, fully present, there for you, sharing her experience with an aim to make yours a transformative one. Hyperbole? See for yourself by previewing her workshop here...Jennifer Kries'
Pilates-Hands-on-Workshop
Want to know more about Jennifer?
In her own words....
No comments yet. Be the first!