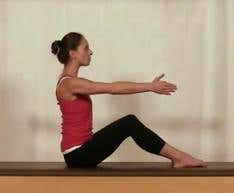 Many Pilates exercises begin sitting up right with straight legs and a straight spine (Saw, Spine Twist, Open Leg Rocker). If either the back of your legs (hamstrings) or your low back are tight, you may have a hard time getting into this position. Since the focus of Pilates is always the Powerhouse, it is preferable that you try for a straight spine first rather than straight legs.
Two ways you can make sitting up straight easier to achieve is either to bend the knees or to elevate your hips by sitting on a phone book or a firm pillow.
Remember, it is always better to modify an exercise than to push through the exercise with bad form.