"It can be exhausting to just teach," says Gia Calhoun of Pilates Anytime. "Finding something else to feed your creativity and diversify your income is a great idea, as we've all seen during Covid."
In this piece, three Pilates instructors who discovered their inner entrepreneur discuss how they took their ideas from back-of-the-napkin sketch to prototype to finished product.
Read All About It
Maria Mankin, a native of Sicily, Italy and the owner of Begin Pilates in North Portland, Oregon is a serial entrepreneur, having created the Begin Chair, which she took to Balanced Body, where it was sold for several years. In 2018, Mankin wrote, illustrated, and produced a 24-page flip book, based on the index cards on which she would write exercises that her clients could do in their own homes. "I sold 350 out of the studio," she says. "People could keep it on their nightstand."
Realizing that the concept of "Pajama Pilates" had wide appeal, she looked into bringing her passion project to a wider audience. She thought about self-publishing but realized that it was often an expensive proposition, with none of the marketing and promotional resources that traditional publishers offer. Without a literary agent, however, it can be challenging to get a manuscript in front of the right editor at a publishing house. Nevertheless, she sent copies of her book to five publishers whose websites indicated that they accepted unsolicited manuscripts (before email, this was referred to as "over the transom").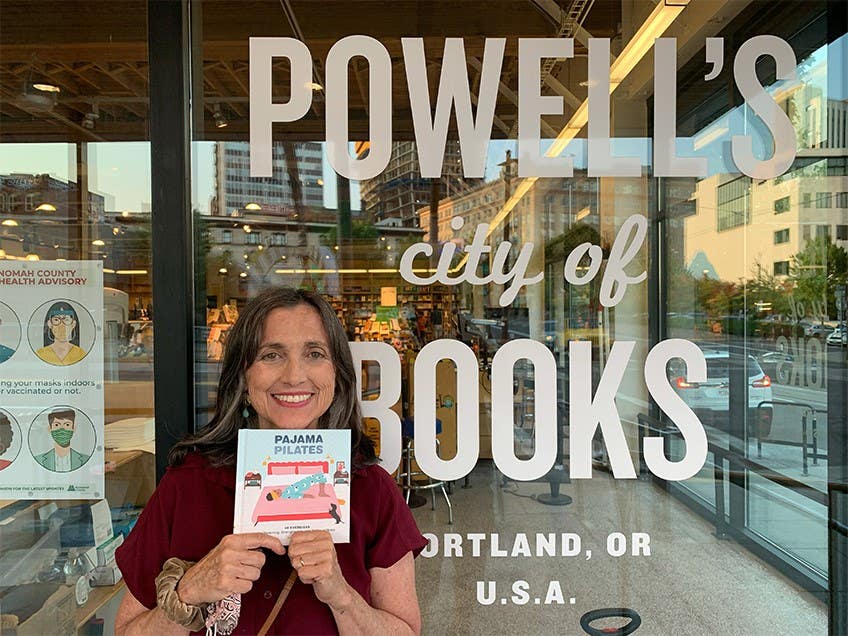 In the fall of 2021, she was about to sign up with a self-publishing firm when she heard from an editor at Chronicle Books in San Francisco, California. It turned out that Chronicle, with its deep bench of lifestyle and illustrated books, was interested in her project. "Pajama Pilates" became a 112-page hardcover, with full-color illustrations by Croatian illustrator Maja Tomljanovic. "My request was that all body shapes and skin colors be represented, and that the interiors be filled with pets and plants," she says. The resulting illustrations feel modern yet familiar, like looking at a friend's Zoom background.
Tinkering in Joe's Footsteps
For Pilates instructor-turned-inventor Viktor Uygan, frustration with the limits of the Reformer spurred his creativity. Uygan, of Mission Viejo, California, wanted to be able to work all four limbs at the same time, and to work contra-laterally, unilaterally, or bilaterally. He started experimenting with Konnections , a custom resistance band that had loops for the feet, and created a repertoire of Mat work, the Konnect Method. Next, Uygan worked on translating these exercises to a Reformer. The result was the Konnector , a one-rope pulley system for independent and simultaneous movement of the arms and legs.
"I created my first prototype in Home Depot," Uygan says, noting that this resource wasn't available to Joseph Pilates when he created his now-famous apparatuses. The first Konnector could only be used with two straps at a time. Uygan kept improving his prototype until he had a system that could be used with four Reformer straps, enabling a full-body workout.
Initially, Uygan marketed the Konnector through Pilates conferences, social media, and continuing education workshops. "It's hard to get the word out," he says. "The Pilates community is very happy with what they have, and it takes time to get used to something different." He was often asked, "Is this still Pilates?" In response, Uygan says, "As long as I follow in Joseph Pilates' footsteps and teach with his principles in mind, it is really Pilates."
When he was able to demonstrate the product face-to-face, people "got it," but it was harder to convey the benefits of the Konnector through a computer screen. At a certain point, Uygan realized he had to make a decision familiar to many Pilates instructors-turned-entrepreneurs: "Do I want to be a manufacturer or an educator?" The answer was clear. He partnered with Balanced Body, known for its innovative Pilates apparatuses and accessories, to sell and distribute the Konnector.
A Stylish Solution
For Jackie Hinton, a Los Angeles, California-based Pilates instructor and CEO of Good Citizen, becoming an entrepreneur was not the plan when she embarked on her Pilates certification in 2006. Spending long days at the studio where she was teaching, observing, and practicing, she noticed how many people went in and out of the studio every day. Although the Reformer carriages and boxes were wiped down between sessions, the loops weren't cleaned as frequently, if at all. "I thought it was gross," she says, noting that germs, oils, and dirt can build up on the fabric hand and foot loops that attach to the Reformer straps.
"It made sense to me that if you can bring your own mat to the yoga studio, why not take your own loops to Pilates?" she says. After searching the web to see if someone else was selling something similar, she decided to try to produce a prototype. Through a friend who worked in L.A.'s fashion industry, she found a manufacturer to produce her first samples, but the results were underwhelming. A second manufacturer took too long to turn around the samples. But Hinton found success with the third source she found, and soon had her first product, a single loop in a variety of bright colors that Pilates practitioners could stash in their bags and use in place of their studio's communal loops. Satisfied, she placed the order for her first shipment of loops. "If it doesn't work, at least I'll have a lifetime supply of loops for my own use," Hinton remembers thinking.
Like Uygan with his Konnector, Hinton experienced some resistance from the Pilates community at first. "The Pilates industry is resistant to change," says Hinton, echoing Uygan. "There was nothing out there like our loops. It was a new concept. It's an extra step, sure, but once you get in the habit of using them, it's simple."
Also like Uygan, Hinton kept improving her product once she had created it. She often works with an older clientele in her Pilates practice, and she'd noticed that the regular loops often hurt their hands, which tended to be more sensitive over time. This led to the creation of a new product, a padded loop, as well as a padded double loop (with different sized openings for hands and feet). These padded loops became her best-selling product.
Hinton's advice to would-be Pilates-preneurs? Reach out to your community, look for mentors, ask for advice from people who are doing something similar but different, and take classes or workshops offered through community colleges or civic groups like the Junior League. Hinton relied on her informal network of Pilates instructors and clients to act as a sounding board and beta testers, as well as to get the word out to local studios.
Today, Good Citizen (the name is an homage to Helen Keller, a childhood hero of Hinton's) enjoys a robust social media following thanks to its #gclooplife hashtag. "Instagram was a great way to reach the global community," Hinton says. She also marketed the product on Facebook and at Pilates conferences and in-person events like BASI's "Learn from the Leaders."
While Covid was terrible for the Pilates industry as a whole, the increased emphasis on studio cleanliness was terrific for Hinton's business. Remember the days of "hygiene theater," and using Clorox wipes for the mail and groceries? "Suddenly everyone wanted their own loops," Hinton remembers. "No one knew early on what Covid was or how it was spread. Studio owners wanted to help studio clients feel safer, and our products were a part of that."
This resulted in longer waits for some wholesale clients, but for the most part, people were understanding, says Hinton, who runs the business with her husband. "It was a challenging, hard year, but also very rewarding. Pre-pandemic, we had hoped to grow a little, but Covid just gave us a hard shove and we had to scale up a whole lot faster."
Have you created a Pilates-centric business? Let us know in the comments below. Maybe we'll feature you and your business in a future blog article.
No comments yet. Be the first!