For most of my Pilates teaching career, I've been a "roaming instructor," sharing my time between studios (as an independent teacher, studio manager, and Senior Teacher Trainer), gyms, and my clients' homes. I've loved every role for the valuable teaching experience I've gained and for the many wonderful teachers, clients and friends I've met along the way. It's no surprise I procrastinated for years about making the change from teaching in a studio to being based solely from home.
I already had been teaching part of the week from home and spending the rest of the time in studios in Central London, when, one day, my commute was particularly unpleasant, and I was late collecting my kids from school. I set a date for the change right then. Once I bit the bullet and told all my clients, I felt a weight had been lifted off my shoulders.
In May 2018, after 18 years of studio teaching, I finally moved my entire working week into my home.
Teaching from home has been great for me, even on the days when the school run has been chaotic, and I'm scraping cereal bowls off the table into the sink and throwing towels into the washing machine just as my clients ring the doorbell. (I've even been teaching a session before I've spotted the Lego mini figures hiding under the Reformer!). However, it may not be for everyone.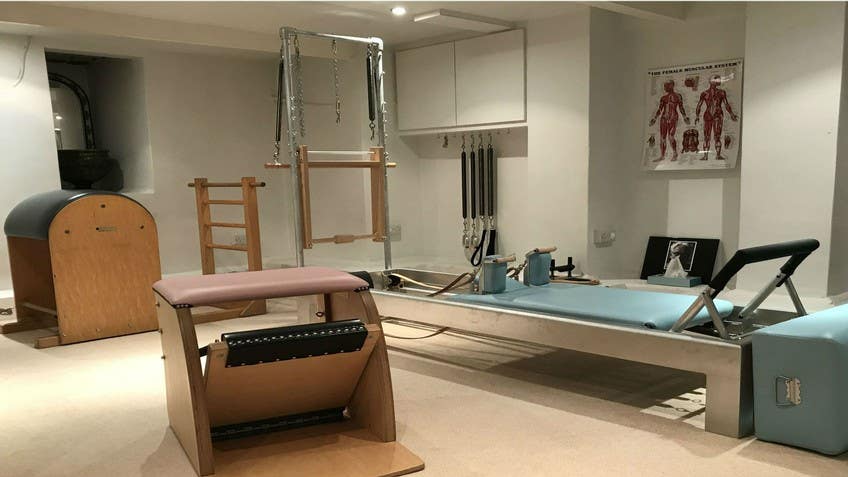 So, before you take the leap into setting up your home studio, there are a few things to consider. Let's weigh the Pros and Cons:
The Pros
Being your own Boss

No commute

Having your apparatus at home so you can practice

Working your own hours

No 'studio hire' costs

Setting your own rules

Building your own community

Convenience

Complete control of your working day

Exercise/take class when you want (Pilates Anytime!)

Timesaving
The Cons
A home studio can be isolating. You may lack the immediate sense of community that can be found in a busy, vibrant studio.

You lose a support system and knowledge base. Working in a bustling studio away from home gives you the support of peers and the ability to bounce ideas off other teachers. Ideally, the more experienced teachers will allow you time to observe too.

You have clients coming through you home unless you have an external entrance.

Parking may become a problem if you teach group sessions.

You lose a room in your home.

Constant tidying (particularly if you have young family)

It's difficult to switch off. You're always close to work.

If you have young children, the space may be unsafe for them.

Deliveries. Your sessions may be disturbed by post/deliveries.
Once you've weighed up the "Pros and Cons" here are some of the frequently asked questions I receive:
How will your family feel about the home being used for your work?
This is very important, particularly if you will be teaching in the space while your family are home. Will your family resent losing the space/access to part of their own home? Consider the impact on family life if your clients are coming through your family space. I mostly teach while my family are out apart from the occasional weekend workshop.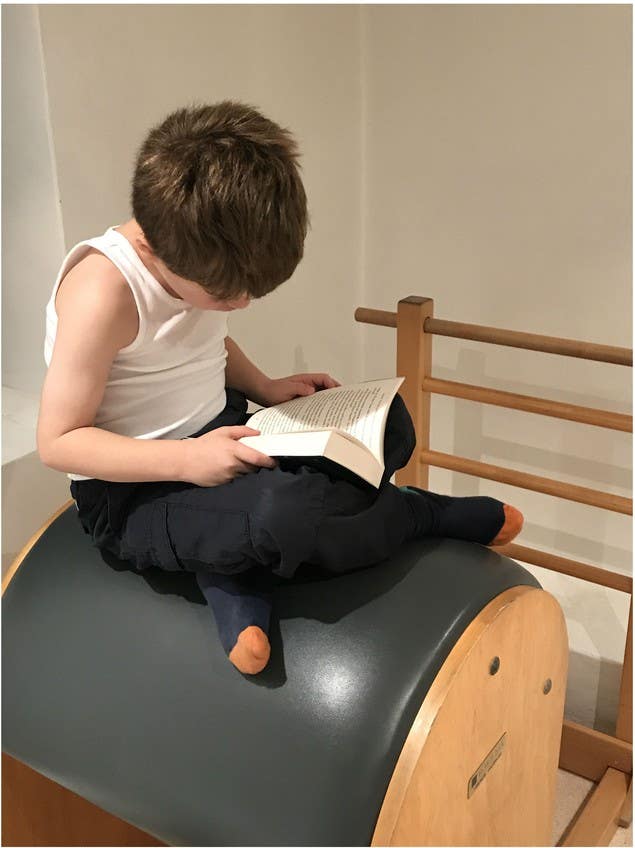 Will your studio be in your home or an external building?
Will your clients be coming into your home or do you have an external building/ garage/garden room you can convert? If it's inside your home, you need to feel comfortable in the knowledge that they will be IN YOUR HOME.
Where will your studio be in your home?
Will your clients have to go upstairs/downstairs /walk around your home to reach the studio? The further away from the access point, the more you have to make sure the corridors are clear and tidy.
How will it be accessed?
Will your studio have separate access, or will they have to pass through your home. If your studio has external access it will be easier to channel your clients and will not impact as much on your home.
Will there be Bathroom facilities?
Will there be a bathroom within your studio space or will your clients need to move around your home to change/use the bathroom?
Once my clients are in the studio there is a bathroom/changing facilities
Will your clients be driving to you? Will there be parking issues?
Do you have a private driveway for parking?
If not are there parking restrictions at certain times of day?
Will they need to use parking meters or will you have to provide parking permits as an extra cost?
How many clients at a time?
Will it be 1-1, group classes, studio sessions?
Be prepared that if you are having a large volume of people pass through your property your neighbours may complain (particularly if your clients are parking on the street outside your neighbors' properties)
Will you advertise?
Do you want your home address listed on advertising?
Clients are given my full address only once they have booked sessions.
Do you have pets?
Consider clients who may be allergic or afraid of your pet.
Do you intend to employ other teachers?
If so, will you always be there to let them in or do they need to have keys to your home?
What type of flooring is best?
Carpet, wooden, stone? You may not have much choice if you are converting an existing space. Carpet is warmer than a wooden or stone floor, wooden floors can be noisier than carpet but at the end of the day its personal choice.
Will you have mirrors?
Mirrors can be great, however, some clients do not enjoy seeing themselves exercise and they can be a distraction.
Will you be purchasing Apparatus?
Consider the Square Footage of your space and what you can fit into your Pilates space comfortably.
Balanced Body has great a space planner on their website.

Final Tips
Check with your building insurance and notify them of changes.
Make sure you comply with Health and safety standards and Fire regulations.
Set boundaries with clients straight away. It is your home and clients must treat it with respect.
If you have house rules for your family they should be set for clients too e.g., removing shoes at the door
Appointment times must be strictly adhered to. This applies everywhere, and particularly when you are based at home. People will want to linger and chat.
Last but not least, I say, "Go for it," and enjoy being in your space!
Do you have a home studio? Share your photos and tips in the comments below!