As vaccines have become more widely available, businesses including Pilates studios are reopening. While many Pilates practitioners and instructors are anxious to return to their studios and Pilates friends, not everyone is content to return to the old ways of teaching and practicing. The pandemic has upended our lives and our businesses, but it has also ushered in a period of unprecedented innovation and adaptation that extends to the Pilates industry.
Henrica De Jong-Hesse, a Dutch-American living in Prague, Czech Republic, has operated a home Pilates studio for many years. During COVID-19, she drew upon her former career in marketing to pivot to an all-digital format. Instead of teaching privates and small group classes in her home, she started teaching English-language Mat Pilates classes over Zoom for between five and ten participants, catering to the expatriate community in Prague as well as in other cities in Europe.
Pivoting to Zoom
Teaching online is a safety necessity for De Jong-Hesse, as the Czech Republic remains a hotspot for COVID-19 in Europe. In late March 2021, as this piece is being written, the Czech Republic is recording 95 cases per 100,000 people, compared to 16 cases per 100,000 people in the United States. De Jong-Hesse was pleasantly surprised to find that remote teaching actually suited her and her clients for a variety of reasons that had nothing to do with the pandemic.
"My business changed when COVID-19 restrictions made physical assembly impossible," she explains. "With Zoom, location does not matter anymore. Instead of teaching people who live within a 20-minute car trip to my studio, I can teach people anywhere in my time zone and beyond."
In the past, De Jong-Hesse's client base was primarily other English-speaking parents at her children's school. During COVID, she used Facebook to market her classes to friends and colleagues in other European cities, including Madrid, where she had lived during another of her husband's job assignments.
"I was hesitant, but it's worked out much better than I expected," she says.
In keeping with her marketing background, De Jong-Hesse recently conducted a survey of her clients about their experiences on Zoom. It revealed that her students have also been enjoying the myriad benefits of Zoom workouts.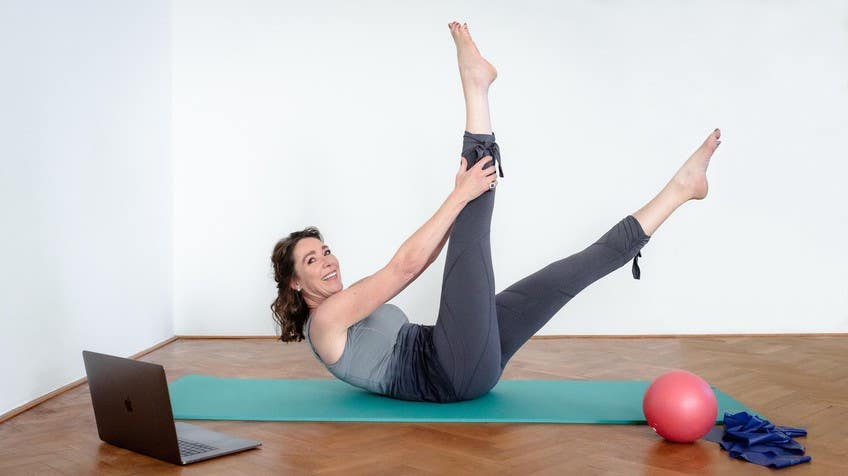 The Upside to Staying Home
Europeans enjoy generous vacations, at least compared to their American counterparts. In the past, De Jong-Hesse's business would drop off during the traditional winter ski week or over the summer holidays as families traveled far and wide. Now that students were accustomed to joining the class via Zoom, they could log on from wherever they happened to be. Just as "snow days" have become a thing of the past thanks to online learning, skipping a workout during a vacation becomes harder to do when your instructor "lives" on your phone screen or laptop. It's also harder to skip a workout due to inclement weather.
Online workouts means there are no more missed deliveries, no small thing now that so many of us are doing more of our shopping online. Zoom classes save valuable time commuting to and from the studio, as well as the cost of a baby-sitter, transportation, gas, and parking. For De Jong-Hesse, as a studio owner, an additional advantage to the Zoom-only format was not having to sweep her studio floors as often.
Several of the responses fell into the category of "self-image" or "vanity." Clients liked being able to shower immediately after their workouts. Camera-shy or body-conscious clients appreciated the ability to turn their cameras off during class. This was particularly appealing to novice exercisers, who might not have been comfortable in a traditional, in-person class but felt less exposed thanks to the online format.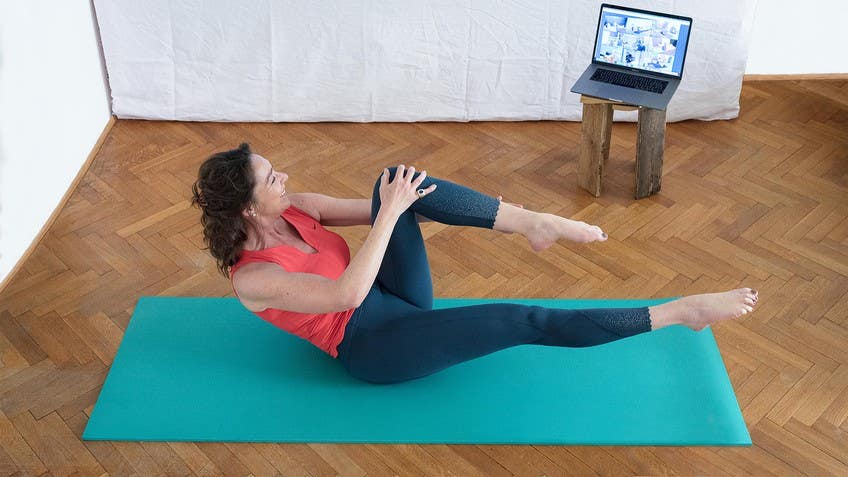 Embracing an Online Community
Perhaps most importantly, online classes created a sense of community that was sorely lacking during lockdown. Clients reported that they appreciated being with peers during their online sessions (even asking about students if someone was missing from the class). Class communications and announcements conducted over WhatsApp group chats provided another avenue for the camaraderie that is a staple of in-person classes.
De Jong-Hesse acknowledges that teaching over Zoom has some drawbacks, including the lack of personal contact and tactile cueing. She also finds herself teaching a less varied repertoire in order to create a safer experience (it's harder to introduce new exercises in the online format).
She experienced the pivot to Zoom from two perspectives, both as a teacher/studio owner and also as a participant. Before COVID, she had attended an in-person spin class at a local studio, usually going for a coffee afterwards with her "spinning friends." During the lockdown, she rented an exercise bike and participated in remote classes. Looking forward, she expects to continue with a hybrid routine, taking a weekly class in-studio when it is safe to do so, but also continuing to work out at home sometimes because of the convenience.
Based on her experience, De Jong-Hesse offers the following "best practices" suggestions to instructors hoping to offer group classes via Zoom, or who would like to improve their Zoom game:
Require some prior Pilates experience for those who would like to join the class via Zoom.
Ask new clients to complete an intake form (including medical history, injuries, and fitness goals), as they would for in-studio sessions.
Provide a complimentary in-studio (when possible) or remote private, introductory session for new clients to get up to speed and become familiar with the exercises and the format of the classes.
Show clients how to get the most out of their Zoom session, such as setting up their space, technology, and bodies for best results.
Let clients know that the instructor can see everyone clearly on a big monitor (so no hiding!).
Consider providing a complimentary small prop such as a Theraband to clients as an incentive to join, or suggesting clients invest in a couple of inexpensive small props (playground ball, Magic Circle).
Refine verbal cueing and increase the use of imagery so clients do not have to watch their screen during the workout.
Use the same Zoom link for every class so it's easy to find and log on.
Utilize communication like WhatsApp to motivate and retain clients between sessions.
Frequently ask for feedback.
Have you started teaching or taking a Pilates class online? Let us know in the comments below what works best for you, and whether you've found some silver linings to the online class format.