When my husband and I left for a recent trip to Maui, Hawaii, I thought I had parked my Pilates practice safely behind in California. I had my eye on other types of adventure - turtle sightings, snorkelling over eels, and reading Treasure Island in the balmy breeze. On my first Maui hike, though, I quickly learned that Pilates is in me, and with me, wherever I go - and wow, am I grateful. Without it, I might never have attempted, let alone completed, a wild excursion to three gorgeous waterfalls.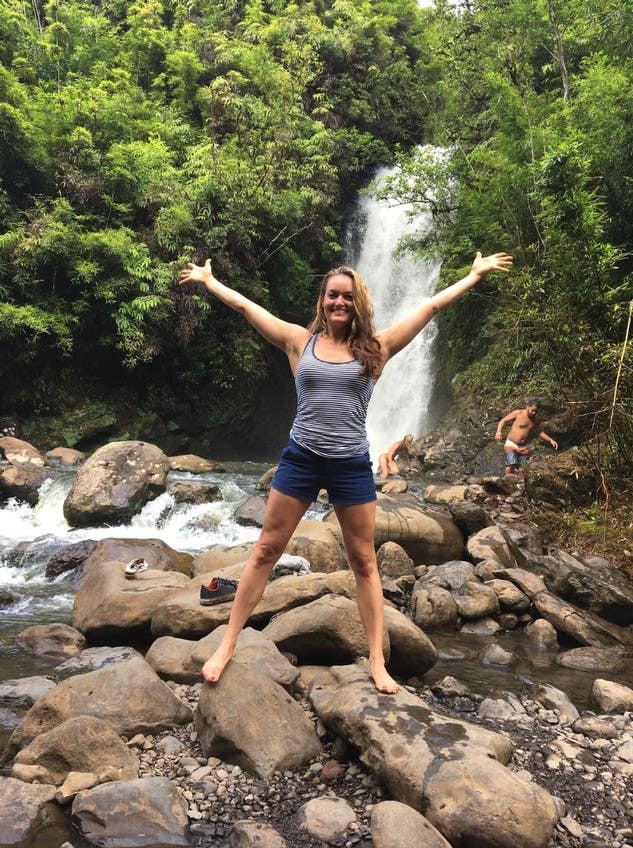 Because this trip was so spontaneous, we didn't plan anything - like, nothing (this is VERY unChanda, by the way). We dug out our snorkelling gear from the attic, threw sneakers into our bags, and took off to Maui with open minds and open hearts.
Not surprisingly, once in Maui, we decided to find some waterfalls. We Googled "waterfalls in Maui," drove to the top of the island, and promptly skipped the first waterfall trailhead because it seemed too crowded. We left the straight road and drove the first part of the infamous, winding Road to Hana. Then, after a few miles, we pulled over to what was supposed to be the trailhead to a series of waterfalls. We saw no trailhead. A few friendly visitors pointed us towards a slim opening in the deep brush and warned us, "It's extremely slippery."
We were not deterred, but maybe we should have been...
Later, back home in Los Angeles, I would read this review of the hike at Na'ili'ili-haele Stream and Waterfall: "The most dangerous and most difficult trail I have ever experienced in my life. It's not recognized by the local or state park districts, but rather known through word of mouth by locals. It's off the road to Hana, but it is a far far cry from anything leisurely that 'road to Hana' has to offer. This 'hike' consists of slippery makeshift planks, waist deep water crossings, rope climbing rickety ladders and scaling giant walls of slick wet stone. This is a true test of courage and will. People have died hiking this trail and well seasoned experienced hikers have been stranded for hours after injury or flash floods, only to be airlifted out from these uncharted trails. This was the best hike of my life."
Clueless of the potential danger ahead and filled with a sense of adventure and anticipation, we started along the path. Not more than 20 steps in, it was confirmed: yep, this is slippery. Wearing just sneakers, we started to slip-slide along the mud and rocks. Fortunately, our Pilates training told us to zipper up our abdominals to find stability and balance. Serendipitously, the path was also lined on either side by bamboo - tall, flexible, and strong. As we went along, we used our bamboo "Gondola Poles," creating a rhythm to our steps.
We crossed an old wooden plank over a treacherous ditch and came to a clearing with rocks forming a meandering, half-underwater path to the other side of a stream. Again, those that knew the way pointed to a shaded opening under a thick canopy of trees, which looked nothing like a trail. "The waterfalls are that way," they said. We never would have guessed. We took off our shoes, snapped a few quick photos, and waded thigh deep through the chilly stream to the other side.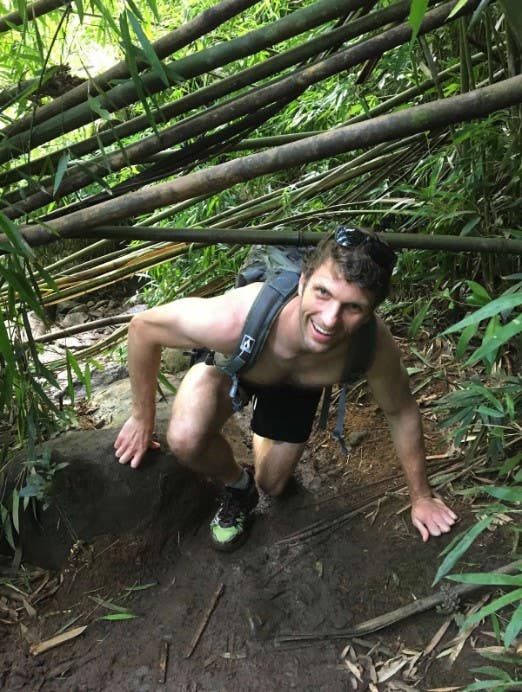 Muddy shoes back on, we hiked onward with excited grins, knowing how difficult it was to accomplish what we had so far, which meant not everyone gets to see these waterfalls. After another 10 minutes of climbing over and under bamboo, and sliding along with smiles and giggles, we heard the water roar, looked to our left, and saw a great waterfall! We climbed over the rocks to get a good view, stood for some time in awe, playing in the water and mist, and feeling grateful to have been guided there.
We pushed on to the second waterfall, which opened to a swimming hole and the perfect backdrop for a Pilates photo. That's when we noticed some hikers starting to climb a 15-foot, perpendicular, wet slab of rock to our left...without rock climbing equipment. Feeling like saying, "Yes," to adventure, but "No," to serious bodily injury, we looked at each other and agreed, "I think that's good for today."
On the way out, my husband and I were the guides, sending oncoming hikers to the mysterious beauty (and a bit of danger) that awaited them. I noticed that as we settled into the hike out, we became more and more like the bamboo we were holding, flexible and strong, with a sense of ease and belonging. I felt like I do when I'm doing Pilates. To my great delight, my Pilates practice was with me.
Upon returning home and reading that ominous review, I thought to myself, "Thank you Pilates (and a little common sense)," for getting us to paradise and back safely.
No comments yet. Be the first!