The pandemic has changed what Pilates looks like. For many Pilates practitioners, it's meant saying goodbye to local studios in favor of Zoom workouts in the living room, trading Reformers for Magic Circles and therabands purchased online. For business partners and Pilates enthusiasts, Kazia Cumbler and Robyn Murgio of Los Angeles, California, it's meant becoming fitness entrepreneurs.
Pivoting to Pilates
Before the pandemic arrived, Cumbler and Murgio had rented a small storefront in Culver City, California, for their parenting coaching business (both of them are mothers of two). They envisioned holding support groups for parents there. When their parenting classes migrated to Zoom in early 2020, they were left with an empty office space. Murgio had been a dedicated Pilates student, taking private sessions with an instructor two to three times a week, while Cumbler had only practiced Mat Pilates. Now, Murgio had no access to a Reformer, nor did she have the space at home for one. From there, a business opportunity was born. Despite not having worked in the fitness industry before, the two entrepreneurs decided their empty storefront should become a first-of-its-kind contactless Pilates studio.
The Pilates Pod offers a clean, private space for one person to work out on a Balanced Body Reformer. Only one person is allowed to use the space at a time, with 30 minutes between each session to ensure that clients don't overlap. Clients book their time slots online and sign a waiver that includes detailed expectations of cleaning procedures and instructions on how to use the futuristic keypad to get into the studio, and how to lock up afterwards.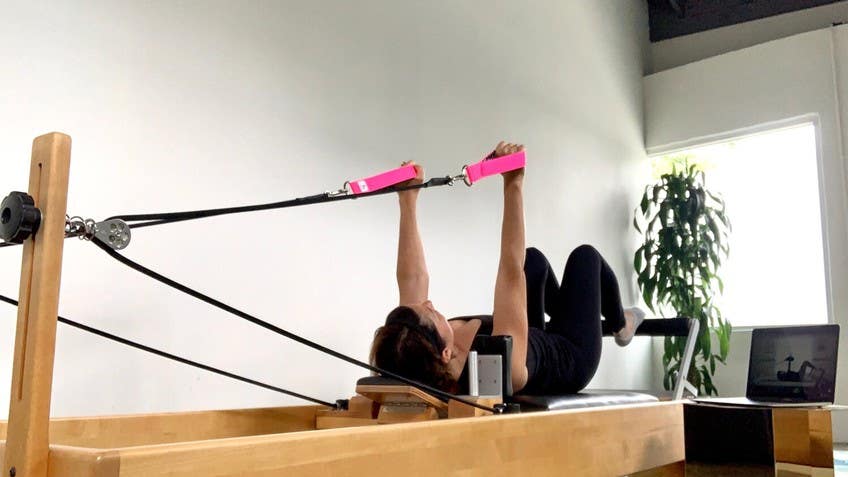 Taking the Concept for a Spin
On March 9, 2021 exactly a year after the COVID-19 shutdowns hit the United States, I visited the Pilates Pod to try it out for myself. For most of 2020 and the first three months of 2021, I had been practicing only Mat pilates at home, using a few props that I was lucky enough to have on hand. When it was time for my workout, I packed up my sticky socks, a towel, and a water bottle to set out for my first contactless Pilates experience.
I found the storefront easily, with its brightly painted sign on a street in Culver City's hip Arts District. I touched the keypad, punched in the code, and I was inside. I discovered a spare, bright room of approximately 350 square feet (the size of a tiny studio apartment in some cities) outfitted with an air filter, portable heater, some comfy chairs, a basket of props, and most importantly, a well-used Balanced Body Reformer with a jump board and box. After cleaning the equipment with the wipes and sprays provided, I joined the Pod's wifi network using the password provided in my confirmation email. I set my phone on a stand by the Reformer and cued up a class by my colleague, Gia Calhoun. Then I slipped on my socks and lay down on the carriage.
The Pilates Pod model is designed to make Pilates COVID-safe, but it also presents some interesting options for both the Pilates instructor and practitioner. The hourly rental rate of $20 (expected to rise but still much cheaper than a traditional Pilates session) means that a skilled practitioner can access a private workout on a Reformer for the price of a group class. Clients can download or stream a Reformer video from their favorite instructor or website (free or paid subscription model), work out independently with their own routine, or arrange to have an instructor teach them though Zoom or FaceTime using a device. These options have the potential to democratize practicing Pilates, as they range from bare bones, no-frills to a more luxury, high-end experience.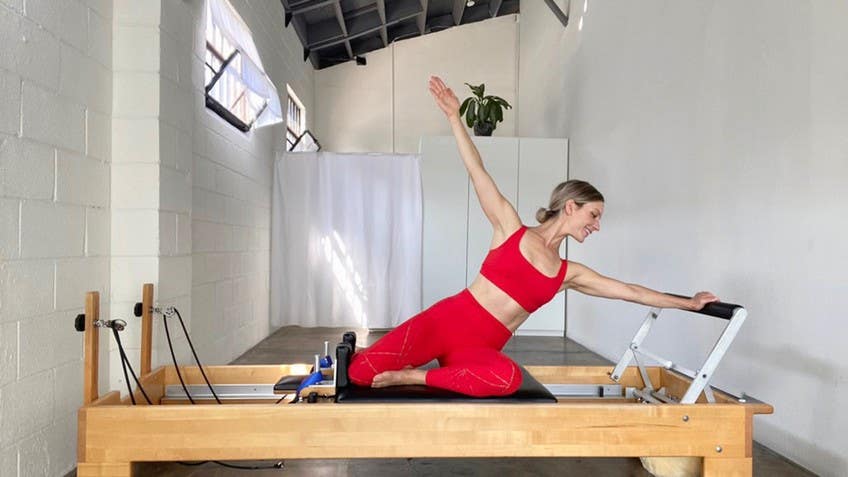 Benefits of Practicing in Isolation
Even after the COVID-19 vaccines are widely available and adopted, the pod model has potential. Individual instructors can rent space for in-person privates and keep more of their earnings instead of having to share with a studio owner. There are other benefits, too, to having a studio of one's own instead of teaching one of several sessions taking place at once. When there's only one session going on at once, the studio can be personalized for each individual session. You could plug in your iPhone, fire up a Spotify playlist and turn up the volume, or simply enjoy the sounds of your breath and of the carriage and springs moving beneath you. No more arguments about environmental factors such as temperature, lighting, music or no music, or the volume of a chatty neighbor's conversation. There's also no more jockeying for the favored piece of equipment when there's only one Reformer.
Another unexpected benefit of the pod, especially for Cumbler, Murgio and the moms who make up the bulk of their parenting class business, is the feeling of total privacy. "It's the one hour of the day when no one is asking me for a snack," says Murgio. Especially in quarantine, when so many parents are pushed into taking on the roles of chef, educator, and full-time caregiver, having a place to go to practice self-care is the greatest luxury.
Is the Concept Here to Stay?
My experience at the pod was a good one. I quickly remembered what makes the Reformer work so special, which is the resistance of the springs. I felt stretched and lengthened in a way that I hadn't felt in a while, and I expected to feel sore the next day. I missed having an instructor to make corrections to my form, to suggest specific exercises, and to remind me how to do specific exercises. Embarrassingly, I found that I had completely forgotten the setup for Semi-Circle, an exercise I'd done countless times but didn't feel safe attempting on my own for the first time in a year. As streaming Reformer workouts gain in popularity, they are also becoming more and more complicated, diverging from the classical repertoire as instructors use their creativity to stand out. While these newfangled moves create highly Instagrammable content, for an inexperienced practitioner learning from a screen instead of an in-person instructor, they can be dangerous.
Despite this, I would return to the Pod. For introverts, germaphobes, or just highly sensitive people (to fragrance, noise, light, etc.), the model is just what the doctor ordered. It's also great for people who have their own Reformer practices and live in cities where space is at a premium, making a Reformer of one's own an impossible dream. Murgio and Cumbler envision replicating the business in other areas where Pilates studios have gone out of business. With so many small businesses on main streets everywhere having gone out of business, perhaps a Pod or a similar business model will be coming to a street near you in the future.