It's a scenario so many of us relate to - what starts out as an innocent curiosity quickly becomes an exciting romance and in no time turns into a serious dependency. Yep, we're talking about your Pilates addiction, and it's no joke.
Finding a Pilates class or private session is easier than ever these days. Practically on every street corner, there's a studio full of teachers with knowing smiles and the promise of Pilates-induced bliss drawing you in. But improved flexibility, long, lean muscles, and this feel-good drug of choice are no match for a dwindling bank account. You're the picture of health, but your wallet is worse for the wear.
The reality is, this relationship is one of your healthiest and one that's worth keeping. Augmenting your practice with at-home Pilates, you think, will help you get more out of your Pilates studio sessions and stay connected to your mind and body when you can't meet your favorite teacher around the corner for your 6 AM fix.
Then, one early Saturday morning, you find a potential solution to your current fitness conundrum: the AeroPilates Reformer (sometimes called the AeroPilates Machine), moving...gliding, even...across your TV screen. Those home shopping hosts sure do look like they're having fun, and boy, that one host's arms and thighs are really toned!
Best of all, the AeroPilates Reformer is only three easy payments, and the price, well, it sounds too good to be true. Then there's free delivery. Could the AeroPilates Reformer really be the answer to your Pilates prayers?
Quite possibly.
Get the Skinny on Your New AeroPilates Machine
The Set Up
Unlike Reformers sold at higher price points, the AeroPilates Reformer arrives unassembled. That's right. You're in for an hours' long set up session. An IKEA Fleuvengeugen has nothing on this Reformer. We recommend you recruit someone who is handy with tools, a wiz at following blueprints, and who also maybe owes you a favor.
The Equipment
If you're accustomed to studio-quality Pilates machines, the AeroPilates Reformer feels less substantial than a solid wood or aluminum Reformer. Though, the new line of premium models are constructed with wood accents and panels that add girth and are quite heavy.
Springs and Cords
On most AeroPilates Reformers, cords replace springs to provide the tension you need for your movements. Black cords are all equal in strength, much like the four equal springs of a Gratz Reformer. To vary the resistance, you can buy a cord upgrade package of lighter weight (yellow) and heavier weight (red) cords. Cords do take some getting used to, but once you acclimate yourself to this new set of "springs," you probably won't think too much about it.
A higher-end unit does come with four actual springs, two lighter and two heavy. If you're used to studio equipment (an advanced practitioner or teacher, for example) you'll notice that the spring resistance is a little light in comparison. This is especially apparent in exercises like Side Splits or Front Splits.
Hack: For $25 + shipping, you can order a heavy spring to replace one of the lighter springs by calling AeroPilates' customer service.
The Footbar
The Footbar is fairly slender and has light padding. The strap for your feet used in Short Box also lacks padding. This is a barebones sacrifice if you're used to a fuzzy strap caressing your cuneiforms (the midfoot).
According to Pilates Anytime co-founder, Kristi Cooper, the skinnier Footbar actually helps with some exercises, like Long Stretch Series. "You can really hold on to it," says Kristi.
Additionally, the Footbar moves a little bit as you set up for an exercise.
Hack: if the Footbar feels uncomfortable on your feet, especially during Arches, slice a pool noodle length-wise, and wrap it around the Footbar. (Genius!)
The Jumpboard
...is a literal trampoline. If you are used to a solid piece of padding on wood, the sensation is less solid and more springy. If you like to get height to your jump, here's your chance.
"A Jumpboard allows you to incorporate a cardiovascular workout into your Pilates routine and helps raise your heart rate." Kristi continues, "The springboard on the AeroPilates Reformer has a smaller surface area than other Reformers, so you have to be aware of where your feet land. It's actually a great proprioception indicator." The springy material is a solution for sensitive feet as well.
The Box
The AeroPilates Reformer does not come with the Box. As with other Reformers, not having the Box limits the exercises you can perform on the Reformer. If you like to do or aim to do exercises like
Long Box Series
and
Short Box Series
, spring for the Box. You'll be equipped to do so many more exercises and make the most of your Reformer.
The Carriage
The pad is wide enough to hold many body types and feel safe and supported. If you're going to perform exercises that require lowering any part of yourself into the well, like Semi-Circle, consider that the space between the springs and carriage is very narrow, and you can't really "tuck" down into that space much.
Straps and Handles
These are fiber cords, similar to what you will find on a contemporary Reformer in a group Pilates class. If you're accustomed to fiber straps, there's no big change here. If you're used to leather straps and wooden handles, you're giving up a bit of Pilates luxury.
The Moves
You can do just about any exercises on the AeroPilates Reformer that you can do on a studio-quality Reformer, including inversion exercises like Short Spine Massage. The equipment is solid, and the Reformer is not going to tip over with you (if that's a fear).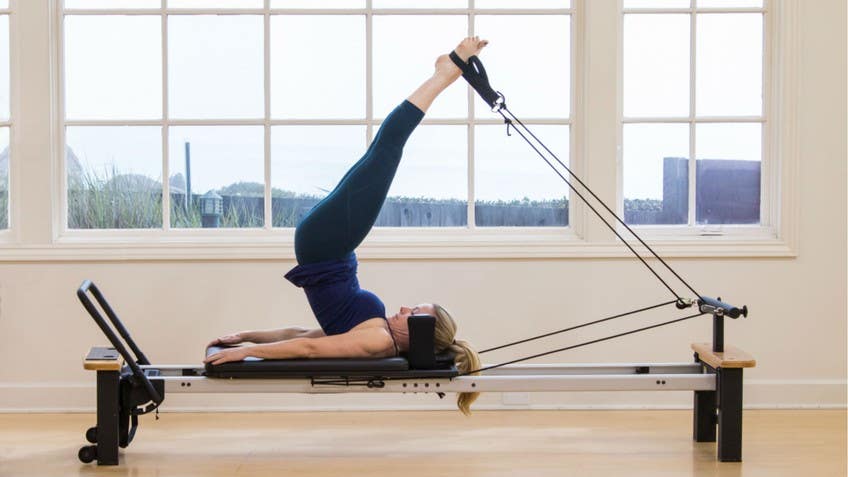 Your Options
The lighter weight materials used in the AeroPilates Reformer keep the cost down. Stamina, the company that manufactures the Aero brand, sells Reformers of varying price points and different materials, so you will have to consult your pocketbook when deciding which product is right for you.
Additional Tips
As with all Pilates equipment, Kristi tells us that "Knowing movements and cues and working with some instruction is ideal." She continues, "The real trick to a solid Pilates practice and using your equipment effectively is to understand how each movement is supposed to feel and instruction can help with that."
Kristi also recommends watching online Reformer videos to help you progress and enhance your practice. "You have this Reformer in your space, and if left unused, it can be a constant reminder of all the Pilates you're not doing."
It turns out, you don't have to give up your Pilates habit after all. You just need to make this healthy habit a healthy one for your budget.
Think of the AeroPilates Reformer like a Hampton Garden Inn. It may not be the Ritz Carlton, but you'll get a good nights sleep, a hot shower, and maybe a warm cookie - everything you need to feel refreshed and put in a good day's work.